The food and beverage industry hasn't always been known for being a frontrunner in new technology and innovations. However, when the COVID-19 pandemic hit the globe in 2020, restaurants were forced to turn to digital solutions to stay alive. As a result of restrictions, restaurants had to adapt to a new way of dining which included fewer dine-in guests, an increase in al-fresco dining, and less contact between service staff and diners.
While a lot of businesses in the food and beverage industry have suffered dramatically during the pandemic, innovative technology has helped many to not only stay afloat but to thrive in this new era. Contactless service has become the norm, with online ordering, self-checkouts, and curbside pickup leading many restaurants to reinvent themselves to fit the current circumstances. This new type of restaurant service has proven so effective that according to Forbes, off-premise consumption will be the main driver of future growth in the restaurant industry.
Here's a rundown of the six top digital trends in the food & beverage industry in 2021 that have helped restaurants to stay ahead of the competition.
1. Online ordering and delivery apps
Restrictions on indoor dining continue in most parts of the world, forcing restaurants to apply extra sanitary measures and reduce the number of diners they can hold. Thankfully, online food ordering and contactless delivery services have kept the restaurant industry alive. Even if we can't dine in, we all still enjoy a break from cooking and we're getting used to ordering whatever dishes we want and having them delivered to our door. The sudden rise in the popularity of third-party food delivery services such as UberEats and Just Eat is only going to rise.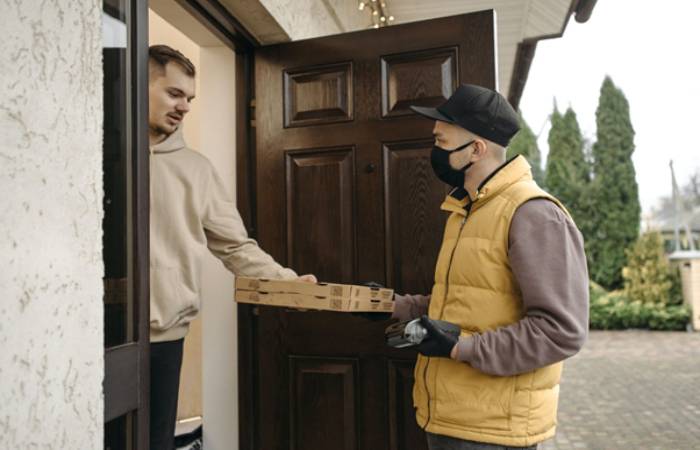 2. Contactless payment
The pandemic has well and truly pushed us into the contactless era. With contactless payment, you can order food online and pay using your smart device with no human contact needed. Not only is contactless payment more hygienic, but it's also more efficient.
3. QR codes
QR codes may be relatively new on the scene for many of us, but tech-forward countries like China have been using them for years. In the contactless era, QR codes have been indispensable for restaurants trying to implement a 'no touch' policy. Diners can scan QR codes on their smart devices to view menus, order their food, and pay their bill all without any contact. This has been instrumental in allowing restaurants to continue doing business without risking the health of customers or staff. That's not the only purpose QR codes have served during the pandemic. Restaurants now use QR codes for contact tracing, an obligation for most restaurants across the world. They may have burst on the scene quite suddenly, but QR codes are here to stay.
4. Online table reservation apps
There has been a surge in the popularity of online table reservation apps like Eat App and Tablein. These apps allow diners to easily book a table from their mobile device wherever they are and restaurants can better manage bookings, seatings, and contact tracing. By having more data in advance, restaurants can provide a smoother dining experience with less waiting time.
5. Digital Kitchen Display Systems (KDS)
Kitchen Display Systems have done wonders for streamlining back-of-house operations. A KDS is a digital menu board that is linked to the point-of-sale system. The use of KDS has transformed the lives of restaurant staff, allowing for smoother communication between wait staff and kitchen staff. Wait staff can log any dietary requirements, track when meals will be ready, and see when something is out of stock.
6. Air purifiers
Restaurants need to ensure that diners feel safe as indoor dining returns. Since the COVID-19 pandemic, the demand for sanitation systems that purify air has skyrocketed. Air purification technology purifies both the air and indoor surfaces, reducing the risk of catching airborne viruses such as COVID-19 when dining indoors. Air purifiers not only protect staff and diners from potential illnesses but also help to make diners feel safe and comfortable during their dining experience.
Tech & Devices That Have Stood The Test Of Time
The gadget scene within the food & beverage industry may be blowing up of late leading to some exciting new developments, but sometimes it's best to keep it simple. In the past few years, we have seen the use of robots in commercial kitchens carrying out basic kitchen tasks, drones delivering takeaway orders, customers communicating with restaurants through chatboxes, and automated cocktail-making robots. These exciting innovations automate mundane kitchen tasks and give restaurants more time to focus on the diners' experience.  However, even with all of these new gadgets on the scene, the busiest restaurants in the world have kept a few old faithfuls. Tried and tested devices such as PoS, pagers, and dumbwaiter lifts have stood the test of time in the food and beverage world.
(POS) Technology
Modern point of sale (POS) devices like touchscreen terminals are quick, efficient, and durable making them a restaurant staple that isn't going. As more and more self-service checkout points pop up, POS technology remains a restaurant essential.
Pagers
Pagers are still widely used for kitchen staff and guests in favour of mobile apps thanks to their reliable coverage that doesn't rely on a strong WIFI connection. Thanks to the long-range dedicated frequency used by pagers, they remain the most reliable communication method available.
Dumbwaiter lifts
Dumbwaiter lifts remain essential in any busy kitchen providing a convenient way to transport kitchen goods and food safely and quickly. As we move further into the contactless era, using dumbwaiter lifts ensures the safe distribution of food and kitchen goods with as little touching or contact as possible. The rise of al fresco dining only increases the need for kitchen lifts and transportation devices.
While technology innovation is exciting and there are plenty of promising new tech devices on the rise, the simple, effective, and reliable devices already on the scene continue to be the unsung heroes in commercial kitchens across the world.
Key Takeaways
The COVID-19 pandemic has had a devastating on businesses across the world, the restaurant industry included. However, it has forced the industry to adapt and embrace new technology. Tech innovation within the food and beverage industry is at an all-time high as a widescale reimagining of restaurants, eating out, and running a commercial kitchen takes place. Even as the global pandemic begins to subside, this new age of restaurant technology is set to continue as automated kitchen staff, online ordering, and takeaway delivery services become integral parts of the new way to dine out.